Jul 06, 2022
Owning a cat is a lot of fun and a rewarding experience, but it comes with a few catches. Namely, owning a cat means you have to deal with a lot of fur, which can show up pretty much everywhere. While all cats shed, some will shed more than others, making it much more difficult to keep up with cleaning.
Fortunately, if you're tired of sweeping and vacuuming all the time, there are stop cat shedding supplements, as well as other tricks to help your kitty shed less. So, let's dive in and see what is the best cat shedding solution.
Why Do Cats Shed a Lot of Fur?
As with humans, cats naturally grow and regrow their fur all the time. Since this is a continuous cycle, the old hair falls out as new follicles come in to replace it. However, for cats, their natural grooming process also leads to extra shedding because they remove their hair as they clean themselves. This is why cats will cough up hairballs from time to time.
About twice a year, your cat will go through a large-scale shedding, usually as the seasons change. The amount of shedding depends on your cat breed and other factors like:
Stress and Anxiety
Allergic Reactions
Skin Infections or Internal Diseases
Ringworm
Parasites (i.e., Fleas)
You may also want to read:
Does the Season Affect Your Cat's Shedding?
Yes! As we mentioned, your cat will undergo one or two massive shedding occasions per year. Typically, these happen when the season changes. So, in fall, as the weather gets colder, your cat will shed to make room for thicker fur to help it stay warm over the winter. Then, in the spring, your cat will shed again so it doesn't overheat during the summer.
If you live in an area that doesn't have substantial seasonal changes, your cat will likely only have one large-scale shedding per year.
Best Ways to Reduce Cat Shedding
Although supplements can help, they're not the only way to keep your cat from shedding. Here are some other tactics that can help you be more proactive and keep a cleaner house.
Brushing
More than anything else, brushing your cat regularly will help remove stray hairs and keep them contained. Depending on the breed, doing this once per day is okay, but you might have to do it twice. Fortunately, brushing can be a bonding moment between you and your pet, and you can easily do it while watching TV or a movie.
Here are some top brushing products you can use:
Ruff and Ruffus Self-Cleaning Slicker Brush
This brush has tons of tiny bristles that will get in-between all your cat's hairs. Just a few brushes and you'll notice tons of fur coming off. What makes this brush better than most is that it's self-cleaning. Just push the button on the handle and the bristles retract so you can remove the hair easily. Some of the furs will still get stuck, but it's much better than having to pull it all out by hand.
Delomo Pet Grooming Glove
If you don't want to use a brush, you can combine petting your cat with healthy grooming practices. This glove mostly works on long-hair cat breeds since the bristles are not very tightly-packed. However, it's much easier to get into the various nooks and crannies of your cat's body when you can use your hands and fingers to do the job.
Catit Self-Grooming Brush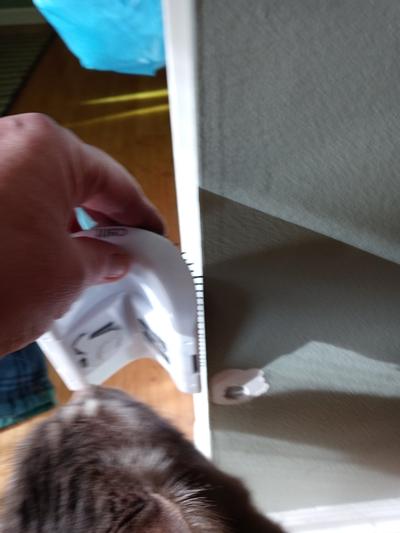 Catit Senses 2.0 Self Groomer Cat Brush
chewy.com
Check price
Helps to collect and remove loose hair to keep your home clean and hair-free.
Easily mount this groomer onto a flat wall or corner surface with included adhesive strips or optional screws.
Stimulat...
Your cat is already obsessed with grooming itself, so why not take advantage? This self-grooming brush allows your feline to remove hair themselves. They'll rub against the stiff bristles, and then you just have to come by and remove the hair regularly. This option won't be as thorough as the other products, but it's perfect for those with a busy lifestyle who can't brush their cat every day.
Shampoo
According to most experts, you shouldn't bathe your cat more than once a month. If you do it too often, you can damage their skin and fur, which will ironically lead to more shedding. However, a regular bathing schedule can help manage their fur, especially if you use anti-shedding shampoo. Depending on your cat, you might have to fight them to get them wet, but once they're in the shower or bath, be sure to use one of these products:
Shed-X Shed Control Shampoo
If you're already using Shed-X to supplement your cat's diet, you can also add this shampoo for the one-two punch approach. Not only does this shampoo help clean your cat's fur, but it infuses your cat's skin with nutrients and antioxidants for shed prevention.
Burt's Bees Hypoallergenic Cat Shampoo
If your cat has sensitive skin or fur, you should use all-natural products like this one from Burt's Bees. This shampoo nourishes the skin and helps keep your cat looking its best all year round.
Furminator De-Shedding Cat Shampoo
Some cats hate taking showers, so instead of risking your skin with endless scratching, you can try this foaming, rinse-free shampoo. Just massage the foam into your cat's fur and watch it work. Combine this product with regular brushing and you should notice a significant difference in the amount of fur you find in your home.
Improving Your Cat's Diet can help reduce Shedding
Your cat's fur needs healthy fat and protein to look and feel its best. So, if you're not giving your cat the nutrients it needs, it could shed more frequently. Also, a good diet can help keep your cat's immune system balanced so that it's less likely to contract diseases or skin conditions. Finally, a stressed cat will shed more frequently, and a lack of proper food or a routine feeding schedule can cause stress.
How a Good Cat Diet Should Be Structured to help reduce shedding?
When creating a good diet for your cat, you need to pay attention to the type of fat and protein contained within its food. Since cats are obligate carnivores, they need animal-based protein for the best results. Fish is also excellent for your feline because it contains omega-3 and omega-6 fatty acids, which help add luster and shine to your cat's coat.
So, when picking food products, look for those that use animal-based protein as the first or second ingredient. Also, pay attention to the levels of fatty acids. One way to ensure your cat is getting the right nutrients is to add a small amount of fish oil to its food once a day.
What Can You Feed Your Cat to Help With Shedding?
While supplements are convenient, you can go the natural route and feed your cat foods that contain these nutrients already. Some of the best foods to control shedding are:
Nutrient-Dense Cat Food - You can shop for wet or dry food that contains extra omega-fatty acids and animal protein, since these elements will help control your cat's coat the most.
Cooked Fish - Unless you're sourcing raw fish from high-quality sources, you should cook it before feeding it to your cat. Also, fish shouldn't be an everyday thing - just a treat a couple of times per week. If you feed them cooked fish, add it to their regular diet so they don't become too accustomed to human food.
Cooked Meat - Fish is the best of both worlds, but you can increase your cat's protein intake by adding real meat to their diet. The best meat is grass-fed beef, but you can use chicken or turkey too.
Best Supplements That Can Stop Shedding
Stop cat shedding supplements can be an easy and effective way to keep your cat from creating piles of fur everywhere. When using supplements, keep in mind that they work differently for each breed, so you might have to adjust the dosage over time to see what kind of effects it has on your pet. Here are the top supplements we've found:
Planopaws Omega-3 Fish Oil
Because a healthy coat is one that doesn't shed often, you need to supplement your cat's diet with omega-fatty acids regularly. Fortunately, this product from Planopaws enables you to do this quickly and easily for every meal. Just pump a little bit on your cat's food (or treat) and let the oil do the rest.
Keep in mind that some cats can be pretty picky, so you might have to get creative if your feline doesn't appreciate the fishy taste. Otherwise, this product comes in a pretty big pump bottle, so it should last for a while before you need a replacement.
Pros
Large pump bottle for convenience
Doesn't produce a bad fish smell
Easy to apply to food
Works for all breeds and ages
Cons
Some cats may not like the taste
Shed-X Liquid Daily Supplement
Although omega-fatty acids are great to help with shedding, they're not the only nutrients your cat needs. Fortunately, Shed-X is packed with all the vitamins and minerals that can help your cat maintain an excellent coat of fur. Just a small spoonful once a day and you should notice results within a couple of weeks.
We have heard some reports that cats with sensitive stomachs may vomit after taking this supplement. Again, using any type of ingestible product can be hit or miss, especially for cats that have a specific palate.
Pros
Packed with essential nutrients
Affordable pricing
Scientifically formulated
Works for all cat breeds
Cons
In rare cases, this supplement may cause vomiting for cats with sensitive stomachs
Best Paw Pure Hemp and Salmon Oil
If you're going to give your cat a supplement, you might as well try to make your pet as healthy as possible. This oil blends omega-fatty acids and nutrients from all-natural hemp. So, it can help with shedding, skin conditions, and even arthritis. However, keep in mind that no supplement can act as a "cure." Instead, it can help reduce symptoms and shedding over time.
This oil is a bit less off-putting than others, so your cat may enjoy eating it. Also, if you have a dog, you can feed it to them.
Pros
Works for dogs and cats
All-natural ingredients
Formulated for improved taste and odor
May also help alleviate arthritis symptoms
Cons
In some cases, the pump may not work properly
Pet Vitamin Co Krill Oil Soft Chews
Instead of adding fish oil to your cat's food, you can give them a soft chew. This option can work better for some cats that may be finicky eaters, but the smell is kind of intense, so your cat must like seafood. Otherwise, you can crumble it up and mix it with wet food for the best results.
Since these chews use krill oil, they contain omega-fatty acids and antioxidants. Also, they work for both cats and dogs if you have a mixed-pet household.
Pros
Easy to feed your cat
Works for cats and dogs
Helps keep skin and fur healthy
Krill contains omega-fatty acids and antioxidants
Cons
The smell can be pretty strong
Tips to Control Cat Hair in the House
Using these shedding supplements and products can go a long way toward keeping your house fur-free. However, there are some other tactics you can try, such as:
Regular Sweeping and Vacuuming - If you're not interested in vacuuming daily, a robot vacuum can help you stay on top of hair that collects regularly. Then, you can use a full-size model to take care of the collections of fur in corners and elsewhere.
Limit Your Cat's Range - It's harder to keep cats contained than it is for dogs, but you can try to keep your feline off of furniture or out of specific rooms. This way, you don't have to clean these spaces as often.
Keep Your Cat Hydrated - Dehydration can cause follicles to fall out more easily, so pay attention to how often your cat drinks water.
How can you De-Shed a Cat?
The only way to properly "de-shed" your cat is to use a metal brush with five to six-inch-long bristles. This type of brush will remove all the dead fur, even the follicles that collect at the roots, next to the skin. You'll have to take your time and be thorough to ensure you get all the fur. Otherwise, some of it can still fall out and onto your floors.
How Often Should You De-Shed Your Cat?
Realistically, you should give your cat a thorough de-shedding once a week if possible. Otherwise, twice a month can help reduce the amount of fur you find. You should still use other de-shedding methods like diet, supplements, shampoos, and other brushes as needed.
Can Shaving My Cat Stop it From Shedding?
Yes, shaving your cat can stop it from shedding. However, if you merely trim its hair to be shorter, you'll still have to worry about fur, just not as much as you would normally.
Pros and Cons of Shaving Your Cat
The primary advantage of shaving your cat is that you don't have to worry about shedding as much. Since your cat doesn't have hair, none of it can fall out and collect on your floors and furniture.
That said, shaving your cat can lead to some adverse side effects, such as:
Stress - Losing all of its fur will stress your cat and could make it act out in different ways.
Comfort - Fur provides warmth and insulation, especially in the winter. Your cat can't regulate its temperature as well if you shave it, so you could be putting its health at risk.
Injury - Cats are not used to getting shaved, so they'll likely fight back during the process. If this happens, they could injure themselves or you (or a groomer).
Overall, shaving your cat can reduce shedding, but it's an extreme measure. Start with other methods first and see how well they work.
When Should You Shave Your Cat?
The only time to shave your cat is if it's medically necessary. However, if your cat sheds too much and you've tried everything, shaving might be your last resort. Once your cat is shaved, pay attention to its behavior to see if it's experiencing any negative side effects. If it is, you shouldn't shave it again unless absolutely necessary.
How to Shave Your Cat to reduce shedding?
First, you'll need to get your cat used to a shaver. The best way to do this is to trim your cat's fur with the shaver a few times so it knows what to expect. Even then, once the device reaches your cat's skin, it'll likely sing a different tune.
Realistically, you'll have to restrain your cat so you can shave it. You need to be careful about its claws, and you should never shave its head. Fur can get into its eyes, nose, and mouth, causing health problems. Also, shaving your cat's tail and paws is challenging, so you should avoid those sections too.
Which Cat Breeds Shed the Most?
There are dozens of cat breeds, and some of them shed more than others. The top three shedding breeds are
The American Bobtail,
American Curl,
and Chartreux.
So, if you have one of these breeds, you'll have to plan your shedding routine accordingly.
How to Stop a White Cat From Shedding?
White cats don't necessarily shed more than other breeds, so a combination of supplements, brushing, and bathing should help your feline stay clean and healthy.
Bottom Line
Shedding is an unavoidable part of owning a cat. However, with the right mitigation methods in place, you don't have to live in a pile of fur. Use a mix of the best cat shedding solution and discover what works best for you and your pet.
Post ID: OyEEDxAQA
Category ID: MMBq7zj
The responses below are not provided, commissioned, reviewed, approved, or otherwise endorsed by any financial entity or advertiser. It is not the advertiser's responsibility to ensure all posts and/or questions are answered.